USB stick accessories
Got a USB memory stick, but find it is never in sight or within easy reach when you need it?
We have all been there - whether it's in the office, at home, or in a meeting. You have some data that you need to save/open and your USB flash drive has disappeared. Cue wasting time digging through your papers, drawers or briefcase to find it.

Interested in a quick fix?

Simply attach a charm to your USB memory stick and enjoy the following benefits:
1. Make your USB flash drive stand out

Sometimes searching for a USB stick feels like hunting for a needle in a haystack. Attaching a charm to your USB dongle can help make it easier to spot whether it is lying on your desk, buried in a drawer or floating around in a pocket or bag.

2. Make it easier to handle your USB stick

USB stick charms are large enough to be noticeable, but small enough not to cause a nuisance by taking up too much space. Once attached, charms stay securely on your USB memory stick and do not need to be detached and reattached to allow you to use the dongle.

3. Store your USB stick within easy reach

As each charm has a short cord loop, you can use it to hang your USB flash drive up within easy reach - cutting out the hassle of searching for it. Alternatively if you are out and about, you can use the loop to fasten the USB stick inside your bag or briefcase, ready to fish out when needed.

4. Express yourself with a USB flash drive charm

In the same way that you can personalise your keys with a key ring, USB stick charms allow you to express your personality while also serving a practical purpose.

5. Make your USB memory stick easy to identify

USB Dongle charms are a good way to personalise your USB memory stick and make it easy to identify which is yours should it become mixed in with other memory sticks.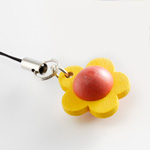 Kukka USB dongle charm (yellow)
This cheery flower-shaped charm will make your USB stick stand out from the crowd!
Buy this USB dongle charm