Christmas parties: jewellery sets for the Christmas season

To help you look your best this Christmas, Arctic Fashion are taking the effort out of accessorizing your party outfit this Christmas with these make-your-own jewellery set collections. Whatever colour you're wearing, we have jewellery to suit all tastes and styles.
To buy any of these items, simply click on the product image and it will take you to the product page on Arctic Fashion's online shop.
Black jewellery sets

Modern and feminine

Add the wow factor to your Christmas party outfit with this bold and feminine black and silver-coloured jewellery set.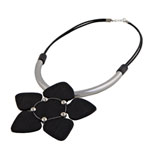 Black flower necklace 'Orkidea'
This beautifully crafted, feminine necklace with a modern twist is ideal for the festive season and beyond. It is bold without being overpowering and is the ideal jewellery to team with with your little black dress for the Christmas party. As black is such a versatile colour, this flower pendant necklace also looks great with bright, pastel and muted shades.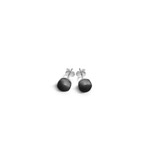 Black stud earrings 'Marja'
Dainty black stud earrings for understated style. With a simple design, these earrings offset the boldness of the necklace and bracelet combination for a striking and balanced look. They are light, chic and durable.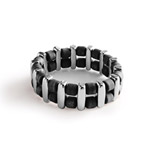 Black bracelet 'Kioto'
An eye-catching chunky wooden bracelet by Aarikka. With its black wooden and silver-coloured nickel free beads, this bracelet matches the modern black flower necklace. This statement bracelet adds impact and completes the set.
Bold beads
Stand out from the crowd at Christmas with these black bead jewellery designs.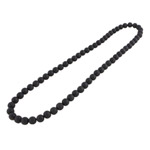 Long black bead necklace 'Suomi'
This long black bead necklace offers simple chic. At 110cm long, this necklace is still wonderfully light to wear as it is made from sustainable wooden beads. Choose to wear it long over dresses or longer tops, or double loop it to draw attention up to your face and neck. Black is always striking and with the matching earrings and bracelet, you can create more of an impact.

Black drop earrings 'Mesi'
Black designer earrings with wooden beads and silver hooks. These stylish earrings are glamorous and match the necklace and bracelet perfectly. With silver-coloured metal links between the wooden beads, these earrings will lighten the all-black set in a subtle and sophisticated way.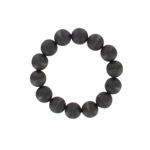 Black bracelet 'Pohjola'
With silky-feel black wooden beads, this bracelet completes the look by adding a final touch of sophistication. Together with the necklace and earrings, the bold black of this bracelet is perfectly offset by the simplicity of its design, which means the set is eye-catching and at the same time effortless to wear.

Stylish shapes
Symmetrical statement jewellery that fuses the natural and the modern.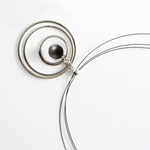 Black necklace 'Jazz'
A modern necklace with three metal rings with central wooden bead. The silver colour of this design will add a lift to your look while the black bead will help tie it in with your little black dress or complement other coloured clothing. This necklace is great value at only £24.00.
Black hoop earrings 'Hitti'
Continuing the black and silver coloured theme, these hoop earrings with black wooden bead go brilliantly with the black 'Jazz' necklace. Made from eco-friendly materials, these glam earrings weigh almost nothing and can be teamed up with a variety of different colours.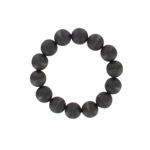 Black bead bracelet 'Pohjola'
A simple but impactful design by Aarikka, this sustainable wood bracelet, also made from black wooden beads, unites this stylish jewellery set. Just the right level of eye-catching, this bracelet can be striking or subtle depending on what you choose to wear it with.
Glamorous black
Glam and bold black jewellery for you to add a touch of sparkle and vamp it up this Christmas!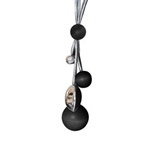 Long black necklace 'Tuuli'
This striking black necklace has a touch of glamour and a touch of sparkle - perfect for the Christmas party season. Measuring 80cm in length, it can be worn over your LBD for instant style.

Clip on earrings 'Turku'
As the Tuuli necklace is so striking, it is best to team it up with a pair of simple black clip on or stud earrings. These will draw your outfit together without looking OTT.



Black bracelet 'Kioto'
The Kioto bracelet goes very well with the Tuuli necklace. With black wooden beads and silver detail, it will complete the glamorous look. This chic bracelet makes a versatile addition to your jewellery collection for Christmas and beyond.


Red jewellery sets

Bright red beads
Be bold and feminine with this bright red bead jewellery set.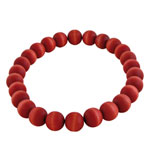 Red bead necklace 'Suomi'
This eye-catching bead necklace, in a bright and festive red, is the perfect jewellery for the Christmas season. It will enliven black, grey and white clothing and tone well with red shades.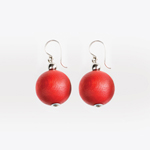 Red drop earrings 'Pallo'
Carrying on the red bead theme, these designer earrings with oversized wooden pearl will put you in a festive mood. Despite appearances, these wooden earrings are light to wear and will not pull on your ear lobe as they are made from wood - a lightweight and durable natural material.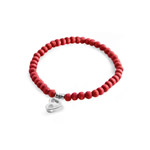 Red heart bracelet 'Romance'
With smaller red beads and a dainty heart charm, this bracelet is bright and feminine. Unlike other jewellery sets where the necklace or earrings are the focal feature, this lovely bracelet by Aarikka is the highlight of the jewellery set. It ties in beautifully with the oversized red 'Pallo' earrings and striking red 'Suomi' necklace and the delicate heart charm adds an extra element of interest.
Striking and versatile red
A modern and festive red necklace with a choice of matching understated stud earrings or more striking drop earrings.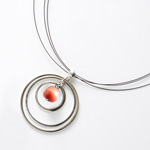 Red necklace 'Jazz'
Look effortlessly glamourous at the Christmas party wearing this circular pendant necklace with eye-catching red wooden bead. In a festive red colour, this necklace will get you into the Christmas spirit. Use this unique design by Aarikka (also available in black) to accessorize your trusty LBD or favourite black top, or to complement or contrast other colours. Priced at only £24.00, this elegant necklace is perfect for you if you prefer metal jewellery, but want a more modern twist.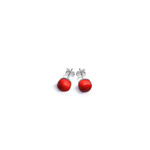 Red stud earrings 'Marja'
These bright stud earrings complement the red 'Jazz' necklace perfectly for understated style. While all eyes will stay on the distinctly different necklace, these earrings will reinforce the red colour of your clothing and accessories. With a wooden pearl measuring less than 1cm diameter, these simple studs are eco-friendly, light-weight and completely nickel free.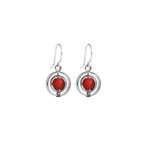 Red drop earrings 'Jive'
A smaller version of the red 'Jazz' necklace design, these stylish earrings from Scandinavia will reinforce the look when you want more impact. Lift black or dark coloured clothing with bright red accessories, or draw out block red or reddish tones for a fashionable and festive look with these red drop earrings.
Blue jewellery sets
Cool blue beads
Prefer blue to black? This fashionable blue bead necklace and matching clip-on earrings set is the Christmas jewellery solution for you.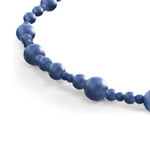 Blue bead necklace 'Yyteri'
Be effortlessly stylish with this beautifully-crafted long bead necklace by Scandinavian designers Aarikka. With three different size beads and made from sustainable wood, the blue necklace is light, eco-friendly and durable. This versatile blue design is suitable jewellery to create a dressed-down casual jeans-and-top look, or, understated and fashionable boho chic when teamed up with party dresses or more formal clothing.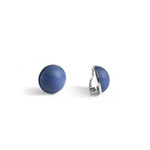 Blue clip-on button earrings 'Turku'
Complete the look with these plain blue clip-on button earrings. With slightly oversized wooden pearl, these clip-on earrings will reinforce the blue tones for just the right level of impact. One of Aarikka's more simple designs, the clip-on earrings are versatile so give you plenty of options for accessorizing into the new year and beyond.
Fresh, feminine and elegant
Look magical this Christmas with a beautiful and elegant necklace, matching earrings and bold wooden bracelet.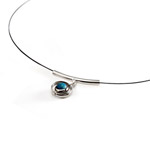 Turquoise necklace 'Jive'
An elegant and feminine necklace with dainty mini-pendant and turquoise wooden bead. This turquoise necklace is slightly longer than a choker necklace at 41cm and can be worn with a variety of different necklines from polo to low-cut necks. A stylish and delicate design, this necklace is versatile and suitable for any occasion whether you are dressing up for the Christmas party or meeting friends for informal drinks.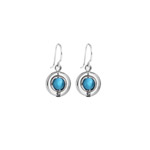 Turquoise drop earrings 'Jive'
These matching 'Jive' earrings are equally delicate and elegant. With silver hooks and sustainable wood beads, these earrings are beautifully crafted, eco-friendly and light.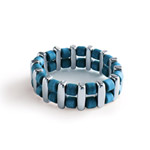 Turquoise bracelet 'Kioto'
Contrasting the understated elegance of the necklace and earrings, this bracelet brings out the turquoise and silver colours of both the earrings and necklace to more striking effect.
If you love fresh, bright colours and simple designs then this is the jewellery set for you.
Green jewellery sets
Fresh and modern jewellery sets with mixed green wooden beads.


Mixed green wooden bead necklace 'Rentukka'
Also available in mixed red and mixed blue, this gorgeous two-layered wooden bead necklace is perfect for adding a splash of colour to your outfit. Dress up jeans or add natural glamour to your evening outfit.

Mixed green bracelet 'Rentukka'

This bright and bold wooden bead bracelet can be teamed up with the matching Rentukka necklace or is eye-catching enough to be worn on its own for a touch of style.
Pink jewellery sets
Bright, bold and feminine designs for all seasons.


'Piccolina' heart charm pendant necklace in pink
Bright and boldly feminine, this gorgeous pink wooden bead necklace features a heart charm pendant.
Team the heart charm necklace up with these bright matching stud earrings. They will complete your look by unifying your outfit and accessories, without drawing attention away from your necklace.
Purple jewellery sets
Statement jewellery in purple
Glam it up at Christmas with this designer purple necklace, earrings and bracelet set.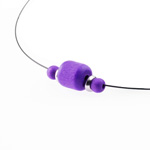 Purple necklace 'Polkkis'
This chic necklace has a subtle design, but potentially striking effect. With three sustainable wood beads and two metal separators on a nickel-free wire, it sits high up on the neck drawing attention up to your face and neck.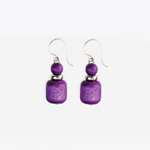 Purple earrings 'Etydi'
The earrings to match the purple 'Polkkis' necklace have two wooden beads and silver hooks.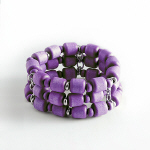 Purple bracelet 'Etydi'
Big, bright and funky, this wooden bead bracelet is sure to make a statement at the office Christmas party. Created from sustainable wood, this chunky bracelet is beautifully crafted with three layers of the same purple beads used in the matching necklace and earrings. Wear the bracelet as part of the set to complete the look or on its own for as your signature piece of jewellery.
Brown jewellery sets
Naturally stylish
Feminine flower design jewellery set in natural brown and white.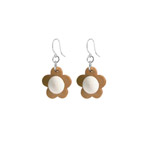 Flower earrings 'Lootus'
These flower earrings will add simple feminine style to your outfit. A unique design by Aarikka, the subtle brown and white earrings are naturally chic without being overly eye-catching, making the design the main focus.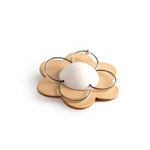 Flower brooch 'Lootus'
In the cold December weather, this delightful flower brooch is the easy way to accessorize your jacket, coat or jumper. Part of the 'Lootus' set, the brooch can alternatively be pinned to a clutch bag for personal style or to create an original hair band or belt accessory and continue the flower theme.
Bold and natural beads
Understated wooden jewellery in earthy shades.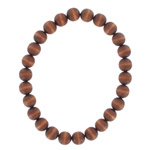 Short brown bead necklace 'Suomi'
This bold natural wood necklace comes in a warm brown colour. Perfect if you prefer more natural shades and earthy tones.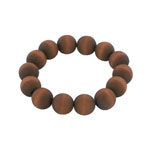 Brown bead bracelet 'Pohjola'
Team this brown wooden bead bracelet up with the matching necklace to complete the look.

White jewellery sets
White jewellery sets to create contrast or add depth to your look.

White Fontana necklace
This chic white necklace is a versatile piece of jewellery for the Christmas party season. With an elegant design and a stark bleached white colour, the Fontana necklace can be teamed up with almost any other colour. Create stark contrast by wearing it with your little black dress, add glamour by accessorising your gold or cream ensemble or depth by teaming it up with blues or reds.
White stud earrings 'Marja'
Simple and stylish, these eco-friendly white wooden stud earrings go very well with either the white Fontana necklace (pictured above) or the white Ulpukka necklace (pictured below).

White necklace 'Ulpukka'
This white necklace features smooth white wooden pearls and sheer white ribbon. If you are looking for distinctly different jewellery for your wedding day, this necklace looks great when worn with white stud earrings.