How to wear brooches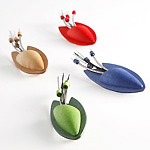 Brooches make very versatile accessories. Far from being frumpy, brooches are popular and frequently sported by the rich and famous. Whatever your style, you can create a unique look effortlessly by adding a pin or brooch.
Want to learn more?
Read on for Arctic Fashion's quick tips for how to wear brooches.
1. The traditional way

Add a brooch or pin to your polo-neck, jacket lapel or the front of your jumper to add a splash of colour or a touch of glamour to your outfit.

2. Customise your look

Revitalise that boring monochrome outfit and make a statement by attaching a decorative brooch to a V- or high necked top. Whether you're slender or curvy, a brooch on your waist or hips will accentuate your figure.

3. Functional and fabulous

Got a cardigan that's too big? Use a brooch to cinch it in at the back or as a clasp at the front for individual charm.

4. The scarf-brooch combo

Like French chic? Wrap a scarf around your neck or waist and fasten with a brooch. Simple and effective.

5. Glam it up

From transforming ordinary leather belts and drab day bags to indvidualising evening purses and clutch bags, all you need is a colourful or sparkly brooch.

6. Creative up-do

Turn that bad hair day around. Convert that boring bun into a creative updo by pinning your favourite brooch in your hair or creating your own hair band with brooch attached. Great for unique day or elegant evening looks.

7. The fashion emergency

Brooches can be lifesavers in a fashion emergency. If you've ever experienced a zip-breaking, button-popping or material-ripping moment while out-and-about, you'll appreciate this. More appealing than the humble safety pin, brooches can disguise a fashion disaster and preserve your modesty. Just stash a brooch or two in your handbag and if disaster strikes, you know you're prepared.
Looking to buy a brooch? Choose one from Arctic Fashion's range of eco-friendly wooden designs...