Snow shovels and snow ploughs

Be prepared for the big freeze with a proper snow shovel or snow plough from Arctic Fashion.
Imported from Finland, these snow shovels and hand held snow ploughs are engineered to last in freezing minus temperatures.
For a closer look, check out our dedicated site for Arctic snow shovels with snow plough demonstration videos and full details of aluminium snow shovels.
PUCK snow shovels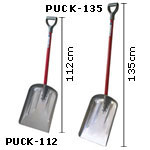 With a hard-wearing but light sea water aluminium (ALMG3) blade and fibre glass handle, these snow shovels are easy to carry and ideal for shoveling icy snow, slush and grit.
There are two sizes available - the PUCK-112 and the PUCK-135 snow shovels.
A snow shovel is an indispensable tool if you are caught in sudden heavy snowfall or snow drifts while on the road. The shorter snow shovel, the PUCK-112, fits neatly in small car boots and makes an essential addition to your emergency winter kit.
The longer snow shovel, PUCK-135, is the perfect shovel to keep at home or work and use to clear paths, pavements or roads. With its longer handle, this snow shovel will help ease the strain on your back as you shovel the snow.
Snow ploughs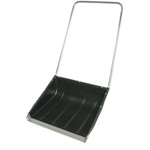 Hand held snow ploughs are a quick and efficient way of clearing lots of snow in minutes.
With a metal edge, these snow ploughs will glide through the snow and create a clear pathway for pedestrians or vehicles.
These durable snow plows are easy to use and available with two different size scoops - 60cm and 73cm.
Snow ploughs are great for clearing snow in front of shops and businesses, car parking spaces, paths, pavements and driveways.
If you are a shopkeeper, small business or homeowner, a snow plough is a worthwhile investment for winter.
Demonstration videos
Don't just take it from us - check out our snow ploughs in action to see just how easy they are to use...

Finnish hand-held snow plough demonstration
Clearing car parking space in 33 seconds - Finnish hand-held snow plough