How to wear wooden necklaces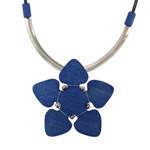 Wood is a versatile natural material and wooden necklaces make a fashionable alternative to more traditional metal designs.
Perfect for every season, wooden necklaces come in a range of colours, shapes and sizes, and can be worn to complement any look.
Click on the links below for more product information or to buy wooden necklaces of your choice.
Get the looks with wooden necklaces
Long wooden necklaces
You can add bold glamour to a hint of boho chic with a long wooden bead necklace. Choose earthy or pastel colours to keep the look natural and understated, go for a bright colours to create a more summery look, or black for understated sophistication.

Wooden bead necklaces
Ideal for drawing attention up towards your face and neck, these chunky wooden necklaces are eye-catching and ideal for adding natural glamour or elegance to your outfit.
Wooden pendant and statement necklaces
Look fashionable and funky with statement wooden necklaces. Combine bright wooden beads and shapes with geometric metal detail for a fresh and striking look.

Make sure you're prepared whether its spring/summer or the Christmas party season with one of our beautifully handcrafted wooden necklaces.