Airplane luggage tag in bright green
(buyer's choice for July 2012)
Fun airplane luggage tag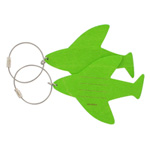 Do you find it difficult to pick your bag out at baggage reclaim? Think all suitcases look the same? Here's a fun and practical solution...
The Loma airplane luggage tag will help your luggage stand out. Bright and eye-catching, this luggage tag by Aarikka makes a great suitcase accessory for seasoned travellers and holidaymakers.
The luggage tag is easy to attach to your suitcase, wheelie bag or rucksack with a simple to use twist lock mechanism. As well as making it easier for you to identify your suitcase, the airplane tag has several lines for you to enter your contact details in case your luggage is lost.
In unisex green, this fun luggage tag makes a thoughtful gift for men, women or children that they can use year after year.