Black bead necklace

(Buyer's choice for November 2013)
Versatile black wooden bead necklace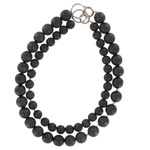 This chic black wooden necklace is a must-have addition to your jewellery collection. The versatile necklace in black can be worn long or short as desired using the clasps.
Created by Scandinavian designers Aarikka, each bead in the black necklace is crafted from sustainable wood. This means the black necklace is light to wear, durable and eco-friendly.
If black is your staple fashion colour, this necklace is definitely one for you. The black necklace also makes a great gift to treat a girl friend or female relative.