Easter bunny ornaments
(our buyer's choice for April 2012)
Brighten your home with Easter bunny ornaments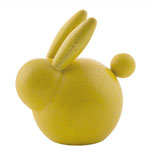 Decorate your home this Easter with a bright yellow Easter bunny ornament by Aarikka. Available to buy online from Arctic Fashion, these delightful Easter bunnies will bring spring in!
Available in two sizes, these Easter bunnies are beautifully crafted from sustainable wood making them eco-friendly, light to store and long lasting - perfect for you and your family to enjoy year after year.
Add the bunnies to your collection now and start creating your Easter display.