Red drop earrings

(Buyer's choice for October 2013)
Sophisticated red earrings for any occasion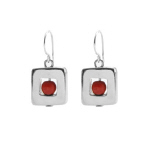 These simple and sophisticated red drop earrings are ideal for day or night. You can wear the red earrings to add a hint of colour to your work outfit, to dress up a casual outfit or accessorize more formal attire.
Scandinavian by design, the red earrings feature a silver-coloured square with single red wooden bead.
Matching necklace also available.