Long black necklace 'Tuuli'
(Buyer's choice for October 2012)

Vamp it up with this bold black necklace design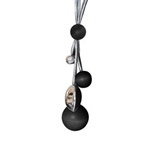 Whether you are vamping it up for a Halloween party, or want some new jewellery to see you through the Christmas party season, this striking black necklace makes a great addition to your jewellery collection.
The long black and silver necklace features three large wooden pearls and silver-coloured detail on a dual strand cord. It is the perfect black statement necklace to team up with your little black dress or a monochrome outfit adding a touch of glamour and sparkle.
Crafted from sustainable wood, this long black necklace is light, long-lasting and guilt-free.