Vibrant blue wooden bead necklace
(Buyer's choice for September 2013)
Statement necklace with mixed blue beads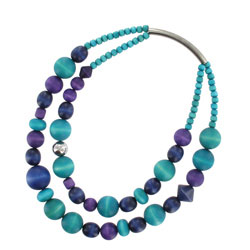 This bold blue statement necklace features a combination of turquoise, blue and purple wooden beads. With two layers, the vibrant blue bead necklace will add a vibrant splash of colour to your outfit for any occasion, be it an informal gathering of friends or a wedding.
Made from sustainable wood, the beautiful blue wooden bead necklace is lightweight, eco-friendly and durable so a great investment for your jewellery collection.
Also available in mixed red and mixed green.
Buy this blue wooden bead necklace online now
Buy this wooden necklace in mixed red