Buyer's choice: February 2010
Arctic Fashion presents the Romance bracelet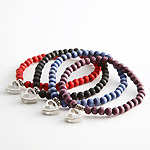 Not just for Valentine's Day, this romantic and feminine design is an ideal gift to show that you care. The Romance bracelet by Aarikka is made from dainty wooden pearls and a silver-coloured heart pendant. Made from sustainable materials, it is not only eco-friendly, but also lightweight and easy-to-wear. This dainty bracelet is currently available in three colours including striking red, cool jeans blue or statement black.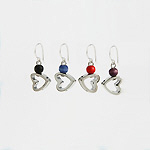 If you want to complete the set - team the Romance bracelet up with these Rakas earrings.
With a single wooden bead and heart, these feminine earrings are distinctly different from other designs available on the high street. Choose red, jeans blue or black to match or opt for purple to mix-and-match. Made with silver hooks, these romance earrings only weigh 4 grams.

Did you know..?
February 14th is Friendship Day in Finland

So, whether you're happily coupled up or free and single, why not make Valentine's Day more inclusive and use it as an opportunity to show your friends how much you appreciate them!