Buyer's choice: January 2011
Arctic Fashion presents the mixed red 'Rentukka' bead necklace
Get 2011 off to a stylish start and chase the post-Christmas blues away with this bright and feminine necklace.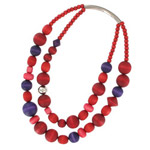 Create a bold and beautiful look with this stunning mixed red bead necklace by Aarikka. With reds, aniline red and purple shades, the bright dual string Rentukka necklace will brighten your mood and your day.
Expertly crafted from sustainable wood, the dual layer necklace has mixed red wooden pearls of various shapes and sizes on black elasticated cord that fits easily over your head. The largest of the wooden beads is approximately 2.5cm in diameter and the smallest approximately 0.5 cm wide. The longer part of the necklace measures 50cm.

This is a striking feminine design by Finnish designers Aarikka with its vibrant mix of colours will pull out similar coloured shades in your outfit or brighten more monochrome clothing. As it is made from a durable natural material, the mixed red bead necklace is designed to last through the seasons and is perfect whether you are stepping out on a grey winter's morning or dressing up for a summer's day.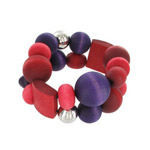 Like the Rentukka necklace? Complete the look with the matching mixed red bracelet.