Buyer's Choice - April 2009

Arctic Fashion presents the Lilian brooch.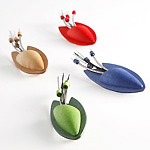 Spring has officially begun - days are longer and brighter, and it's time to cast off those winter jumpers and coats. The Lilian brooch is the perfect way to welcome spring and prepare for summer. The bright, feminine brooch can be worn pinned to a light jacket, cardigan or top day-to-day at work or to liven up an evening outfit.
This original and eye-catching Scandinavian design is made from sustainable wood from Finland and weighs just 20 grams (that's less than 5 teaspoons of sugar!) Available to buy in four distinct colours - middle brown/light brown, red, jeans blue and dark green/apple green – you can choose how much you want to stand out from the crowd. Buy it online from Arctic Fashion now for only £13.50.