Buyer's Choice - March 2009

Arctic Fashion presents Aarikka's Lootus necklaces and earrings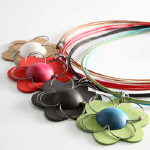 Celebrate the arrival of spring (finally!) and Mother's Day with a gorgeous Lootus necklace. The bold flower-shaped pendant is made from eco-friendly wood and metal, and is easily attached around the neck by four colourful waxed nylon cords and a simple clasp. Available in four colours, this feminine wood necklace is perfect for brightening up your outfit. It will bring a smile to your face, and those of the people around you, as a reminder of spring and brighter days.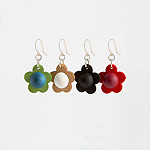 Made from sustainable wood from Finland, the Lootus necklace is extremely lightweight and easy to wear. It comes in four colours - light brown and white, black, red and anilin red, and apple green and turquoise. With fashion trends for Spring/Summer 2009 set to focus on statement jewellery, this bold, bright Aarikka design is perfect. On sale at Arctic Fashion for £21.55, the feminine Lootus necklace would also make a great gift for Mother's Day.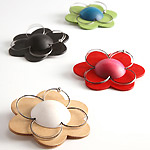 Want to create the same effect, but need a more understated look for work? You could buy a set of playful Lootus earrings instead for just £9.95 (see above). Or, if you're more of a brooch person, try the Lootus brooch (see left). Ideal for adding a touch of colour to a jacket or cardigan.