Buyer's choice: April 2011
This month's buyer's choice is the long blue Suomi necklace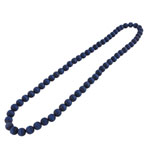 Stay on trend this spring/summer with this gorgeously simple, but chic necklace in one of this season's most versatile colours.
Whether you're wearing coral or have opted for one of the pastel or perlescent shades for spring 2011, the extra long blue Suomi necklace makes a great piece of jewellery to complete your outfit. A great alternative to black for longer, brighter days, blue goes well with a variety of other colours - making this necklace a great investment for your jewellery collection for spring/summer 2011 and beyond.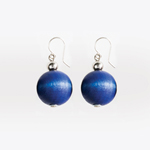 The simplicity of this design means this necklace will add casual chic style to your outfit - day or night. If you are popping to the shops, going out for lunch or meeting friends for drinks, this necklace will add an instant and effortless touch of chic to your outfit. Measuring 110cm long, this chic natural necklace is made from sustainable wooden beads and is effortlessly light to wear. It can be worn long or double looped depending on your mood or style of top/dress.
You can wear this necklace on its own for simple chic, or team it up with similar coloured jewellery to dial up the colour and impact.
Buy this blue necklace for spring/summer 2011