Buyer's choice: June 2011
To celebrate Father's day on Sunday 19th June and the start of summer holiday season, this month's buyer's choice is the moose luggage tag.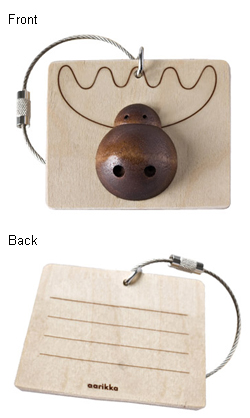 A stylish travel accessory for keen travellers, frequent flyers or holidaymakers.
Just in time for the start of the summer holiday season - this eco-friendly luggage tag is the ideal accessory for jet-setters of any age or gender. Its unique design will help you to spot your suitcase or holdall in baggage reclaim and identify it in a pile of similar-looking bags.

Why not give this environmentally-friendly design item as a Father's day gift? A stylish way to personalise their suitcase, the affable moose luggage tag is another beautifully designed and crafted product by Scandinavian designers Aarikka.
As well as this luggage, there are a variety of other items in the 'Hirvonen' range, including a keyring, towel clip and luggage tag - all fun and practical gifts for men.