Purple drop earrings

Buyer's choice: January 2010
Arctic Fashion presents the new Etydi earrings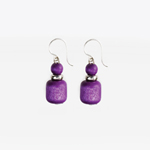 New for 2010, Etydi earrings by Aarikka are glamorous and brightly-coloured.
They are versatile and will complement day, work or evening wear. Available in red or purple, these earrings will draw attention up to your face, but as they are quite small and dainty, are not overly conspicuous.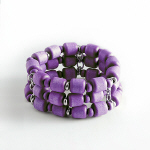 Each earring has two different sized coloured wooden beads, a silver hook and measures 2cm long. As they are made from sustainable wood,they are very light and will not cause any discomfort by pulling your ear lobe down.
To create a wooden jewellery set, the purple Etydi earrings can be worn with matching Etydi bracelet and complementary Polkkis necklace.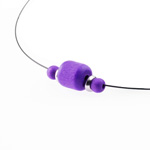 The Etydi bracelet is made up of chunky purple wood beads and makes a fashionable wrist accessory.
The new Polkkis necklace comes in the same purple colour and goes well with the Etydi earrings and bracelet. A dainty Scandinavian design, this necklace adds a chic and understated splash of colour.