Red and silver coloured light necklace "Foxi"
Arctic Fashion presents Aarikka's Foxi necklaces

Buyer's choice Feb 2009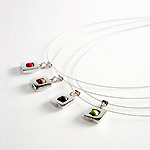 This elegant environmentally-friendly Aarikka necklace is suitable for every occasion. The dainty silver design with single coloured wood bead adds a hint of glamour when worn to work or day-to-day. It is also perfect for special or formal occasions and will complement a high necked top or dress perfectly, without drawing too much attention away from your outfit.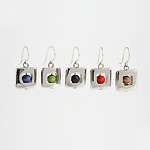 Delicate and durable, the Foxi necklace is so light you may forget that you are wearing it. Available to buy for under £10, this Scandinavian designed necklace is very good value for money. There are four colours to choose from (middle brown, black, red and apple green) and a range of matching Foxi earrings to complete the set. A set of Foxi earrings and necklace costs less than £20 and at that price, it is easy to purchase a few different colours to mix and match with different items in your wardrobe.