Buyer's choice: November 2010
Arctic Fashion presents Pikku Pyry
Just one of the fun and festive wooden Christmas decorations available from Arctic Fashion.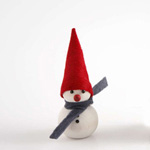 Create your indoor winter wonderland this Christmas with this cute snowman tonttu complete with red nose, bright red hat and blue scarf. The smallest of the snowman tonttu, Pikku Pyry will help you create a festive feel in your home instantly. Beautifully crafted in Scandinavia and created by Finnish designers Aarikka, Pikku Pyry is a special wooden Christmas decoration that you and your family can enjoy for many years to come.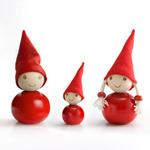 For subtle Scandinavianstyle at Christmas, Pikku Pyry will sit nicely on a table, mantelpiece, shelf or windowsill and add instant Yuletide charm to your home. Alternatively, you can group the snowman table decoration with other tonttus from Arctic Fashion's wooden Christmas decorations collection for a brighter, festive look. With a splash of red in his hat and nose, but a white body, Pikku Pyry tones well with other red tonttus in our range while also adding an extra element to your festive display.
From Santa's homeland, Pikku Pyry and his tonttu friends are all expertly crafted from sustainable wood. This makes them light to carry and store, durable and eco-friendly - a worthwhile addition to your traditional Christmas decoration collection. The beauty of these tonttus is that they complement any interior design style from rustic farmhouse to modern flat and are a fuss-free way of decorating your home for Christmas.
Buy this snowman Christmas ornament
Tonttus by Aarikka to buy online
Related products - snowmen