Buyer's choice: October 2010
These fashionable wooden stud earrings are this month's buyer's choice.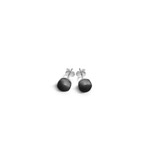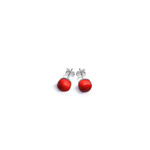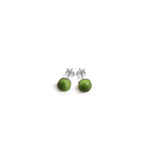 Understated feminine style for work or everyday.
These stud earrings offer simple style, practicality and versatility. Whether you want some understated earrings for work or college or just want some fuss-free jewellery for everyday wear, these are the stud earrings for you.
Each wooden earring has a small coloured wooden pearl (less than 1cm diameter) and silver butterfly clips. As they are made from sustainable wood, these designer earrings for pierced ears are light, durable and eco-friendly - a practical addition to your jewellery set.
There are six colours to choose from so you can team these stud earrings up with complementary or contrasting colours as you prefer:
Black - a versatile pair of earrings that will complement almost any outfit. As a fashion staple colour, black will never go out of fashion and so you can rest assured that you will always get wear out of these black stud earrings.
Green - bring out the green in your clothes or add a splash of colour to your look with these apple green stud earrings.
Red - make an impact and lift your mood. These stud earrings in red are bright, feminine and bold.
Blue - for a slightly more modern or casual look. These stud earrings are perfect for accessorizing a navy suit at work or jeans for dressed down chic. Currently available in jeans blue and coming soon in blueberry, you can pick your favourite shade of blue.
White - versatile earrings for understated chic. Like black, these white stud earrings will complement almost all other colours. White jewellery is more unusual and can be difficult to find on the UK high street so if you want lighter coloured stud earrings that you can get wear out of, these are the studs for you.
Priced only £11.90 (with delivery £2.95), these designer stud earrings are great value and a must-have for any jewellery collection.