Buyer's Choice - June 2009
Arctic Fashion presents the Satu I wooden necklace.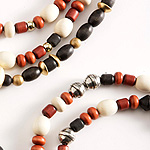 Whether you're sunning yourself in St Tropez or Southampton this summer, your can embrace your natural roots with this fashionable, ethnic design. The unique Satu I wooden bead necklace by Aarikka comes in two appealing colour combinations - take your pick from rich natural wood, mahogany, grey and transluscent or mellower silver, natural wood and transluscent.
Made from sustainable wood from Finland, the ethnic-inspired Satu I necklace is environmentally friendly, durable and lightweight. The 'fairytale' necklace will complement almost any outfit - ideal for days in the summer sun!