White necklace for the bride

Buyer's choice: September 2010
This month's buyer's choice is the beautiful white 'Ulpukka' necklace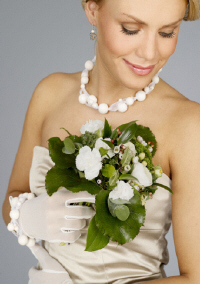 With its silky wooden pearls and white ribbon, this is a unique and beautifully feminine necklace by Aarikka.
The Ulpukka white necklace is just one of the new Aarikka designs that are now in stock at Arctic Fashion. Different from other necklaces you will find on the UK high street, this white necklace will help you achieve understated Scandinavian style and elegance. The special white necklace has a dream-like quality with its shimmery white ribbon and smooth slightly creamy coloured wooden pearls. It will tone well with neutral shades from white to ivory and more creamy colours as well as complementing pastel tones and creating an appealing contrast with bright or dark colours.
A more modern alternative to gold or silver jewellery designs, this white necklace is made from eco-friendly materials. The different sized white beads are expertly crafted from sustainable wood, which means this necklace is light, silky to touch, easy to wear and long lasting. If you are a fan of wooden or natural jewellery, then this necklace is a fresh and modern must-have for your jewellery collection.
Look stunning on your wedding day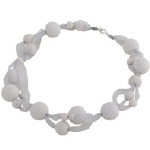 This beautiful white necklace makes the perfect bridal jewellery. Distinctly different from other designs, the wooden Ukpukka necklace creates a soft feminine effect. A necklace that is eye catching and easy to wear, this light and eco-friendly jewellery will perfectly complement your wedding dress without drawng attention away from your overall look. Made from sustainable wood, this white bridal necklace is light, durable and great value.